Buy Your Little Rock Touchdown Club Membership Now!
Join us for our exciting 2016 Speaker Line-up Announcement on August 10, 2016 at 12:00 Noon in the Lobby of the Simmons Bank Tower-Downtown Little Rock. Tailgate Food will be served!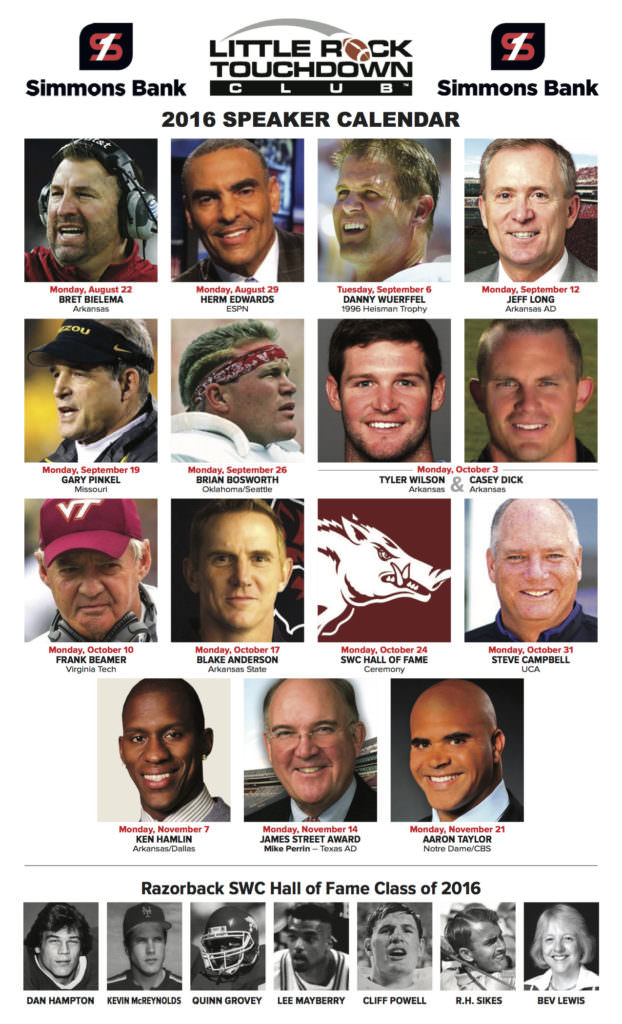 We Want 500 Members This Year!
To help us accomplish this we need your help. Learn how you can win a 50 Yard Line Membership and help us reach 500!
Weekly Schedule
Lunch Served Between 11:00 am and 12:00 noon
Program Starts at 12:00 noon
Usually lasts for 1 Hour
Weekly Meal Cost
$20 For All Members
$30 For All Non-Members
Note: Special events are slightly higher and will be noted on event reservations page.
Become a member today!
The Little Rock Touchdown Club typically meets every Monday during the football season at Embassy Suites on Chenal Parkway in west Little Rock.
How To Join
To join, complete the online form in the right-hand column of the website OR sign up in person at the next luncheon.
If you need more information, please visit our contact page and send a message. Your e-mail will be returned with your requested information as soon as possible. Hope to see you at one of our future meetings.