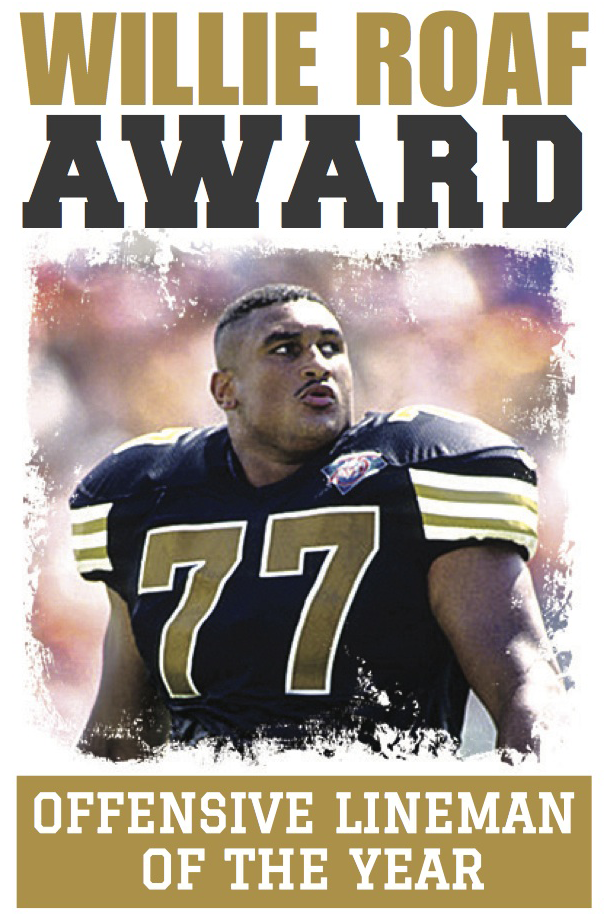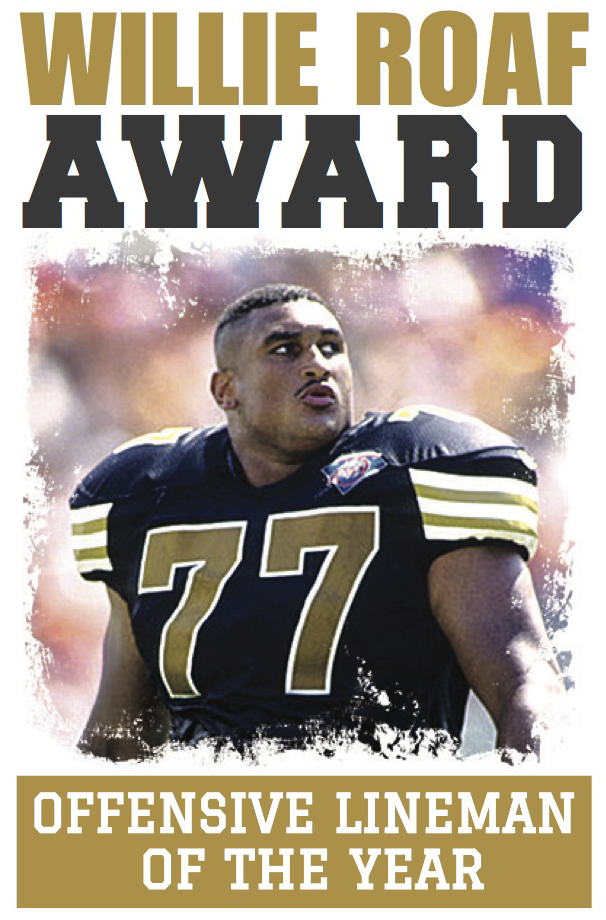 The Willie Roaf Award is presented to the top Arkansas high school offensive lineman and the top Arkansas collegiate offensive lineman. A selection panel of statewide media along with Roaf select 3 finalists and the winner for both high school and college awards. The winners are honored at the Little Rock Touchdown Club's annual awards banquet.
NFL Hall of Fame Member Willie Roaf on the Willie Roaf Award
"Having this award in my name is such a great honor for me, as big as going into the Hall of Fame. It's amazing to think a kid like me from Pine Bluff barely recruited to college and signing with a program just entering Division 1, could end up one of the best to play the game at my position. It shows young football players from Arkansas that with a lot of hard work and great character you can achieve anything. I had great coaches and teammates along the way to help guide me and I always competed hard and strived to be the best. I want to thank the Little Rock Touchdown Club and all invovled for considering me. I look forward to being apart of the process of finding these special athletes on and off the field."
About Willie Roaf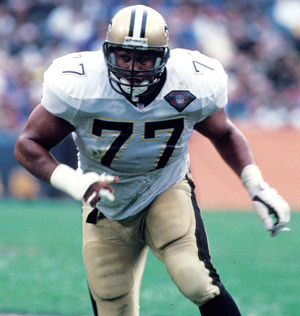 Pine Bluff native Willie Roaf, the son of dentist Clifton Roaf and the late Judge Andree Layton Roaf, is quick to note that his mother would have preferred that he become an attorney or doctor. He drew so little interest from college recruiters coming out of Pine Bluff High School that he considered switching from football to basketball. Finally, he decided to play football at Louisiana Tech University, where his career took off. After a stellar professional career, Roaf was inducted into the Arkansas Sports Hall of Fame in 2007 and the Pro Football Hall of Fame in 2012.
Roaf was 6-4 and weighed 220 pounds when he went to Louisiana Tech, small for a college offensive lineman. By his sophomore season, Roaf was 6-5 and weighed 300 pounds. Louisiana Tech played Alabama, Baylor, South Carolina, Ole Miss, West Virginia and Southern Mississippi during his senior season, allowing professional scouts plenty of opportunities to watch Roaf play. He was picked in the first round of the 1993 NFL draft by the New Orleans Saints. Roaf was the eighth selection overall and the first offensive lineman to be drafted.
Roaf spent the first nine years of a 13-year NFL career with the Saints. He started 131 games for New Orleans and helped the franchise to its first playoff win, a 2000 victory over the defending Super Bowl champion St. Louis Rams. A torn ligament in his right knee forced Roaf to miss the second half of the 2001 season. He was traded to the Kansas City Chiefs, where he made the Pro Bowl in each of his four seasons.
Roaf was voted to the Pro Bowl 11 times in 13 seasons, tied with Hall of Famer Anthony Munoz for the most Pro Bowl appearances by an offensive tackle. He earned a spot on the NFL All-Decade teams for both the 1990s and the 2000s. Roaf also was inducted into the New Orleans Saints Hall of Fame in 2008 and the Louisiana Sports Hall of Fame in 2009.